Zuzana Barnáková Winery
I see wine growing as a universe of changeability. It's a great lesson of accepting what's beyond my abilities to change as well as becoming aware of my own limits. The cycle of days. Of the Sun, joy, fears, hard work, success and failure, abundance, gratefulness, anger and respect. It's a way to satisfy my desire for a pure and diverse country and high quality foods. And most of all: responsibility for a piece of land I may cultivate.
I'm trying to have a minimalist approach towards winemaking. I realize that I can interfere in the whole process of grapes becoming wine to a different extend and influence the result of the process. I believe that the best has accumulated in the grapes even before I approached them in the cellar. That's why my winemaking goal is to accept and make kinds of wine that are spontaneous, casual, alive, and changeable. Underline the beauty of the crop and interfere in the process as little as possible. I sincerely wish to give them enough time to ripe, develop their potential, and mature. In their own pace. Patience and trust are the virtues I'm attaining with them. They teach me to accept myself just as I accept my wines. With an open mind and a heart full of love.
I'm cultivating in a vineyard in Rača - Bratislava. I'm making wine in a family cellar in Malacky. The first vintage with a commercial purpose is the 2017 vintage. I introduced my winemaking to the world in the summer of 2021.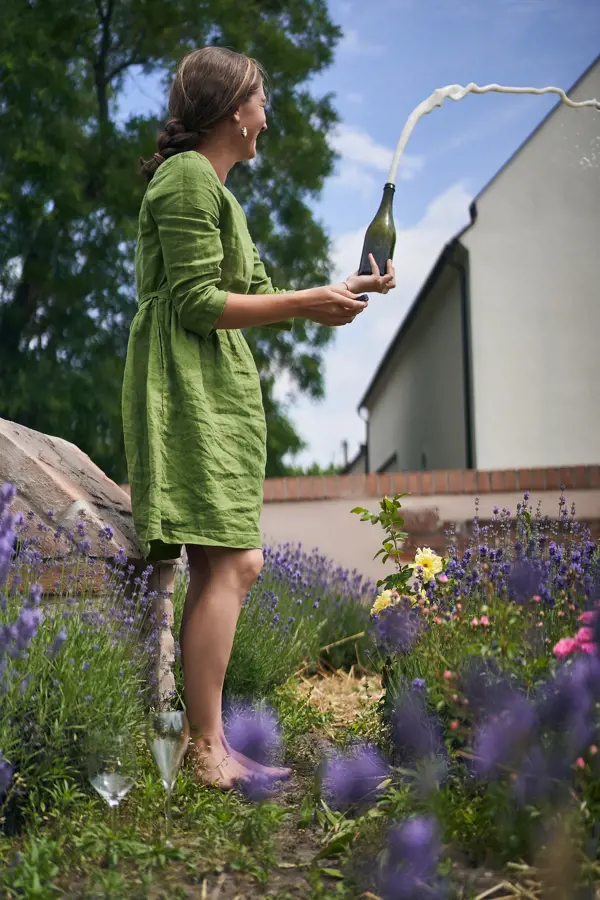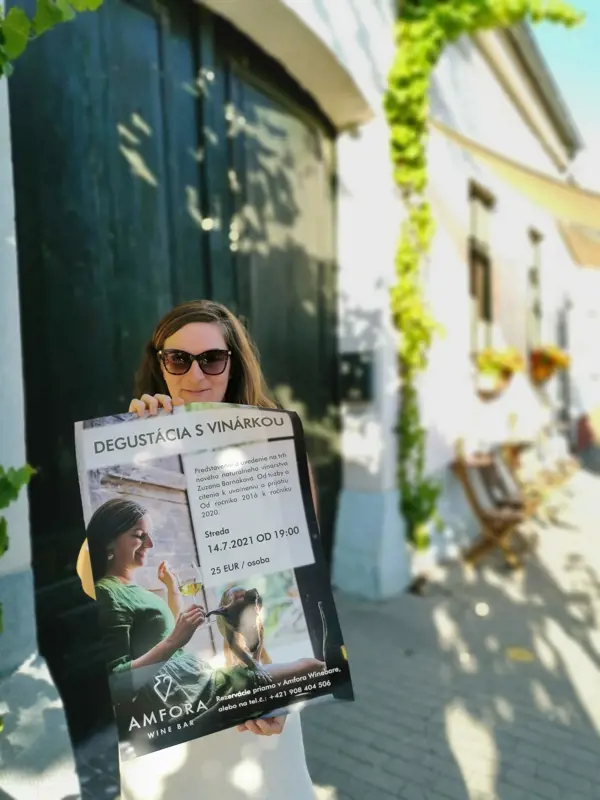 Vintages
2022
A year of huge personal changes. The year my crown fell off
I'm cutting Pinot and stroking my belly. It's nice to be productive and useful during pregnancy. Still, I feel alone. My mindful man is building a nest for us. And since we have a deadline, he puts all his time and energy into it. I am pruning our beloved Pinot by myself this year. The last lines just parts above my knees. I can no longer bend over my stomach to the trunks.
April, 36th week of pregnancy and we are moving to our dreamy Svätý Jur. No one can believe that we managed to completely renovate the interior of the historic house in three months. I'm living my best times. The stress of moving has subsided and I'm only focusing on myself and my body. Long, romantic, slow walks through the picturesque Jura and naps are my all-day program.
The most beautiful times were replaced by what I could call the most challenging times in my life. My amazing body managed a three-week longer pregnancy, managed a difficult birth, showed me what its new functions are and how determinedly and perfectly it does them: birth and breastfeeding. Through all of this, for the first time in my life, I am faced with the need to deal with my mental health. Motherhood properly tested several of my weaknesses, especially the ability to let go of the old and the program I call "performance and productivity."
I really want to continue winemaking. At the same time, I feel stuck and bound by the child. I can't even imagine doing anything other than carrying and nursing a baby. Fortunately, I have a man for whom I am still a winemaker. Even in moments when I don't feel like a winemaker myself. There will be a campaign, but for the first time I am leaving the beautiful cellar in Malacky. The 2022 vintage is produced in Svätý Jur. At home. Three solo barrels, two kinds of Petnat and that´s it. None of this would be possible without my mindful man.
It's the end of the year and I feel like I'm over the worst. I am launching two new wines and also a new, enriched version of myself as part of the presentation of these wines. I am grateful that the vintage 2022 can also be created. Thank you, my love, my mindful man.
I´m making:
Pinot Gris 2022 (Zemianske sady)
Frankovka 2022 (Bratislava, Krasňany)
Riesling 2022 (Mužla)
Veltliner Torbído 2022 (Zemianske sady)
Pinot is love 2022 + Milovín (Bratislava Vajnory)